Voiceover training that puts your soul behind the script
Have you been told you have a great voice? Are you an actor ready to explore the career opportunities your voice alone has to offer? Train with one of the top voiceover coaches in the nation, whether you live in NYC, LA, Portland, or even Tinytown, USA.  Learn (and master) what only a coach who is also a top NYC Casting Director can teach you about the key to booking voiceover jobs.
Start your adventure here and avoid making the mistakes that hundreds of people have made each year. With thousands of students trained under her guidance already, top voiceover coach Lesley Bailey will help you discover the secret and simple techniques known to all the best voiceover artists.
If you want to be competitive in the voice over industry, you need to learn from someone on the inside. You've come to the right place, and you too can be a "Voiceover Guru."  Find out how Voiceover Gurus can help you achieve what you want in your voiceover career:
Train with a top voice over coach who is also a casting director
Learn the most competitive voice over tricks and techniques, and develop your unique sound
Create a phenomenal voice over demo
Find voice over auditions and learn ways to stand out from the pack
Win the jobs and turn your voice into your career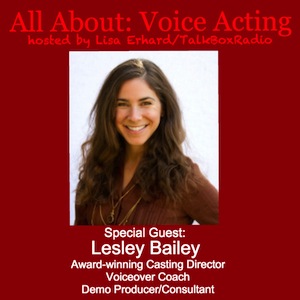 THIS IS WHAT YOUR SUCCESS CAN SOUND LIKE:
VOICEOVER GURUS
About Voiceover Gurus
Lesley Bailey is an award-winning Casting Director, Voiceover Coach, Demo Producer, and Consultant who comes as a highly recommended voiceover coach in the inner circles of the industry. She spent ten years as the Head of Casting at a major production company in NYC as well as ten additional years coaching and producing demos.  Lesley has consulted at a major advertising agency and has also done freelance voiceover and on-camera casting at some of the top casting companies in the nation.
OUR SERVICES
Voiceover Mastery Packages
VOICEOVER COACHING FROM ANYWHERE
Voiceover coaching can happen anywhere these days, thanks to modern technology resources such as the free internet phone service Skype and through better phone quality.
PORTLAND VOICEOVER COACHING
Portland voiceover coaching just got easier with NYC Casting Director and longtime Coach Lesley Bailey now in residence here. In-person coaching benefits and steep discounts are just a few of the benefits.
LOS ANGELES VOICEOVER COACHING
Los Angeles voiceover training can open doors quickly when you train with the right person on the right side of the mic.  Casting Director and Voiceover Coach Lesley Bailey has heard it all after 20 years
LISTEN UP
Annie Meisels is an actress based in New York whose plate is full with theatre, film, TV and voiceover work. Some favorite credits include the film Six Degrees of Separation and TV shows "Law & Order SVU" and "Life on Mars."
HERE'S YOUR FIRST
FREE VOICEOVER LESSON:
Whatever script you are reading is not just "informational", as so many students have chosen to call it. This is the kiss of death! If you decide the heart of the text is purely informational, you will sound like a robot, only capable of delivering words, but without any feeling behind them. Your JOB is to get to the emotional center behind these words. The writer did his part, THIS is your part.
After looking just a little deeper at any script, you will start seeing it: it's a little bit sarcastic, or full of confidence and conviction, or warm and sincere. You jst have to read between the lines. Sometimes you will pore through every letter of every word and not find any evidence of any emotion, it happens. That writer perhaps had very little time to convey a lot of … information. So here's what you do: ask yourself what you feel about the information. Is it clever? Intelligent? Great, now you have something to chew on! Again, if you don't find anything? Tell yourself you really find this interesting and you want to share it with the person you are telling. You are now reading a script as a connected, expressive, emotive human being, Congratulations, you're literally halfway there!